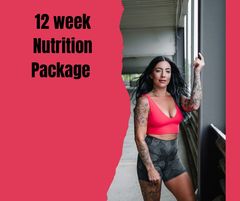 12 Week Nutrition Program
12 weeks of 1 on 1
What does this include ?
Aim is weight loss and accountability
This is all done on my app
We will start you off with 4-5 days a week walking if that is doable for you .
Completely personalized meal plan with weekly changes when needed.
Food is key
No macro/calorie counting I do all this for you.
Just whole foods to nourish your body.
Recipes galore so food never gets boring
Easy to follow
Family friendly
Learn how to portion food and give your body what it needs for fuel on a day to day basis.
Nothing that will take a lot of time
1 on 1 support from me.
I'll be there 100% to support you but give you a kick in the ass when it's needed.
Facebook group with 110 others struggling with the same things to help keep you accountable.
Daily lives in the group from me with either recipes or some motivational talk.
1 live workout with me weekly (optional to join)
By purchasing this program you are 100% understanding there will be no refunds under any circumstances. 


If you disrespect me or another client you will be removed from the program without question. If you don't show up and communicate with me you will be removed from the program without question. With no refunds given.